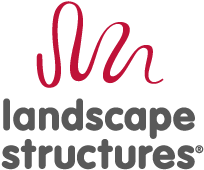 T

he Crab Trap
The unique look of net climbing structure offers tons of opportunities to climb, crawl and hang out. The open-ended play experiences engage creativity and critical decision making as kids ages 5 to 12 maneuver their positions from one challenge to the next. This statement piece will allow kids to reach exciting new heights in play and adds visual appeal to any playground.
This patent-pending merry-go-round offers ample room for kids and families to interact and play together – including those in wheelchairs. The integrated roof provides shade, and the center handhold allows riders to participate in the spinning fun. It promotes fun interaction by having all users face each other. We-Go-Round™ is also available with Digifuse panels that come in different options.
These large chimes provide the lowest, most resonant notes of the Rhapsody® collection. Eight Vibra™chimes, each with their own mallet, play eight different notes to make up a major diatonic scale. An excellent addition to playgrounds, parks, schools, museums and more. Vibra chimes can also be ordered by different chord types. Excellent musical activity for all ages.
Rhapsody Cascata Bells
NEW to the Rhapsody family! The Cascata™ Bells combine ten bells of different tones for auditory and visual pleasure. Play one at a time with the attached mallet, or slide the mallet along all the bells for a fun music-making experience.
Curva Spinner
The Curva™ Spinner is a beautiful and fun addition to any play space. One child or multiple kids can ride around and around. The spinning motion offers vestibular stimulation and promotes experimentation with centrifugal force and cause-and-effect.
Take a fun spin on the Chill™ Spinner or just relax in its comfortable seat. The spinning motion offers vestibular stimulation and helps kids understand centrifugal force and cause-and-effect. Textured rubber belting creates a comfortable and secure ride.